Hello Everyone! Welcome back to the post-Covid-19 exercise of the Month series.
As you may know, for the past 30 years, I have been collecting and experimenting with special therapeutic exercises from around the world. These therapeutic exercises have contributed tremendously to my teaching and personal body-mind-development. I gained so much from them, that I decided to once a month share one of them with you.
I have empirically proven these exercises to be of therapeutic value and would love to present them to you. By the way, by therapeutic value I mean that these exercises initiate a kind of unity between the different parts of our body, so to produce a movement that includes and positively affects our whole body.
The therapeutic exercise I am going to share with you today is called "Happy tree blowing in the wind", a lesson in how the differentiated movement of circling your upper body in standing engages the central nervous system to release your dorsal spine.
Happy tree Blowing in the Wind
Click on the video below to see how to do this wonderful therapy-exercise for your dorsal spine.
Starting position
Stand with slightly bent knees, right arm extended upwards, left arm bend over your head to hold the right elbow.
The Procedure
Activate your Power Engine – find out here how to exactly do this – and make a 360° circle with your torso, as if to draw a beautiful circle around the ceiling of your room with your right fingers. Do this five times in one direction and then five times in the other direction. Then change arms.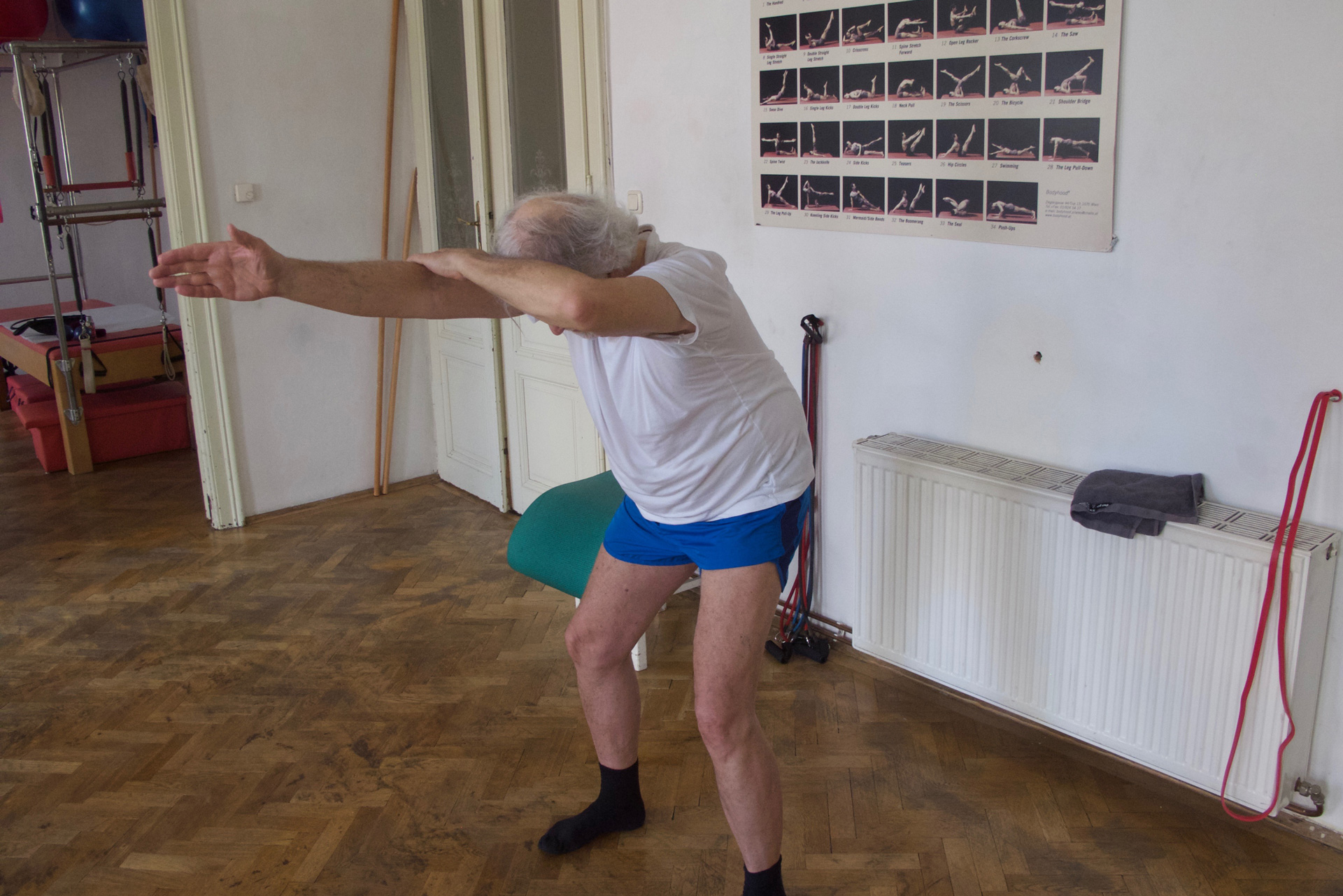 Coaching keys
This is what I repeatedly say to myself while I imagine myself drawing that circle around the ceiling, so to get the most out of it and not dream away:
• I maintain the vertical thrust
• I keep my pelvis steady and
• I avoid twisting my torso obliquely
Therapeutic values
The exercise "Happy tree blowing in the wind"
• releases tightness in your dorsal spine reflexively
• promotes differentiated movement of the spine in the gravitation field – since we are in standing;) and
• removes excess loading of your lumbar spine
And last but not least, …
The Pilates Connection
This wonderful therapeutic exercise provides you with a better perceptive understanding of all bendings for all Pilates flexion exercises, such as the Spine Stretch Forward, Saw, and more.
So, you could, for instance, do the Spine Stretch Forward exercise immediately after doing the "Happy tree blowing in the wind" exercise, and you will be surprised how easy it becomes to bend.